Deliver Psychosocial Support to South Sudanese Refugees!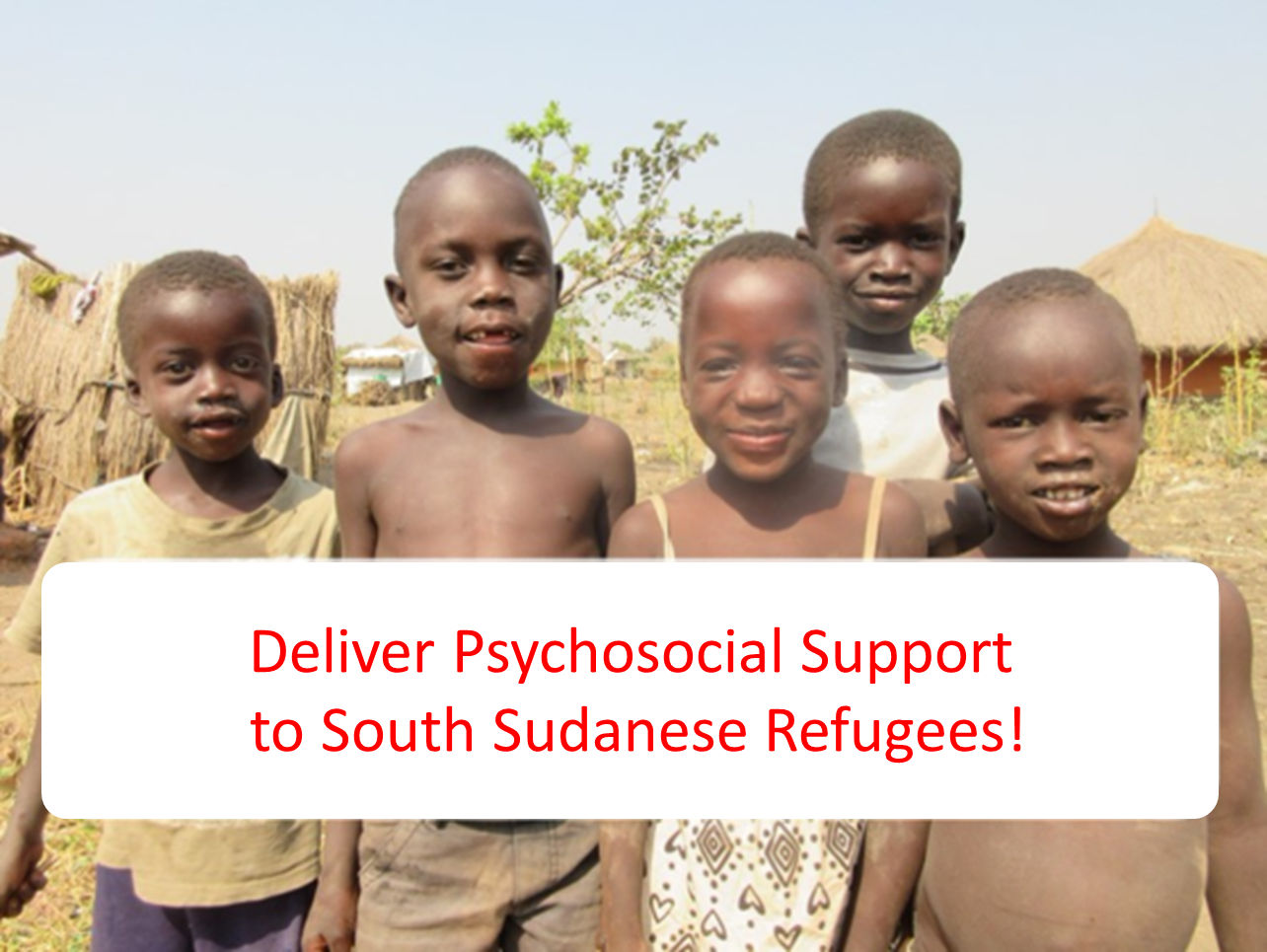 MPJ would like to deliver psychosocial support to South Sudanese refugees in Northern Uganda starting from April 2018.
We are now collecting donations for the new program!
<Psychosocial support is highly needed>
Since August 2017, MPJ has been working on building shelters and latrines in the refugee settlements in Northern Uganda. Through our work in the refugee settlements, we have seen many refugees suffered from trauma due to the armed conflict back in South Sudan.
A boy experiences visual hallucinations, of the three murderers who killed his father approaching toward him. Another boy suffers from auditory hallucination which commands him to act in certain ways. A widow who failed to afford an appendix surgery ended up committing suicide.
Although food and water are crucial for refugees, mental health care is also highly and urgently needed since refugees are highly stressed from extreme poverty, loss of their family as well as all the property in South Sudan. Some refugees even feel hopeless about life.
This is the reason why MPJ decided to conduct the psychosocial intervention for South Sudanese refugees.
<MPJ's psychosocial support program>
We will provide psychosocial sessions to children at elementary school with the aim of helping them to process their traumas and relieve their stress, which ultimately can prevent PTSD (Post Traumatic Stress Disorder).
The program also includes holding psychosocial seminars for teachers and refugee communities consisted mostly by women.
To enhance the program, Dr. Norihiko Kuwayama, a Japanese experienced psychiatrist/ psychotherapist, will join us as a supervisor.
<How donations will be used?>
MPJ will apply for the funds of approximately 9,000,000 JPY (about 82,000 USD) to start up this program. Yet, we still need another 1,000,000 JPY.
The donations will be used for
・Personnel cost for local expertized staffs (200,000 JPY)
・Travel expenses of the supervisor (250,000JPY)
・Rented car to move to refugee settlements (300,000 JPY)
・Equipment for workshops (50,000 JPY)
・Sending project reports to donners ( 30,000 JPY)
・Commission for administration of crowdfunding  (170,000 JPY)
<How to donate>
You can donate to the MPJ's mental health care program by credit card.
1. Click below URL.
http://millenniumpromise.jp/action/donation
2. Scroll to the "Credit Card Payment Online" and enter the amount of donation in the blank below "Donate".
The amount shall be
・3,000 JPY (almost 27 USD),
・5,000 JPY (almost 45 USD),
・10,000 JPY (almost 90 USD),
・30,000 JPY (almost 272USD),
・50,000 JPY (almost 455 USD),
・or 100,000 JPY (almost 910 USD).
3. Click "Send"
4. You will move to "PAYMENT" page and enter the necessary information in the blanks. Please write "South Sudan" in the NOTE section of the page.
5. You will receive the confirmation email.
* Should you have any inquiry regarding this donation, please write an email to mpjapan@drive.ocn.ne.jp